Upcoming stories
My cup overfloweth. Contracts are signed, edits are underway, and I just discovered that I'll be sharing the tables of contents in two upcoming anthologies with some very excellent people.
Your cup might overflow as well, dear reader, because in each of these anthologies I have two stories.
In MoFo's third anthology, Religion (originally Sacrilege), my stories are kind of different from each other, but between them cover plenty of my Roman Catholic influences.
"Deliver Us" is about what happens when you get exposed to bondage through B-movies about exorcisms, and your girlfriend is an ex-Catholic who once wanted to be a priest.
(When your boyfriend did become a priest and you want to rescue him from his decision, you get A Last Touch of Grace. Comparing that story in 2016 to these stories in 2017 probably reveals something interesting about my spiritual journey.)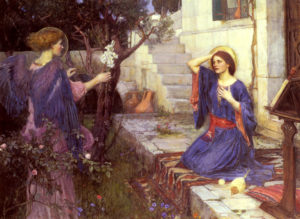 "Annunciation" is a semi-autobiographical novella in flash about growing up queer in the Catholic Church. Novella in flash might be a slight exaggeration, but I've recently fallen in love with the form and its cousins after reading Sylvia Brownrigg's Pages for You—even if I didn't manage a "true" novella of the appropriate length and independence of the composite flash pieces, it was fun experiment. The format might also be influenced by the 5 + 1 fanfiction genre, in which case we have "Five times I* believed lies the Church told me about gender and sexuality and one time I figured it out," I guess, or maybe "Five times I really missed the fact that I was queer and the realization(s) that put me right." Not only was "Annunciation" fascinating to write (I said these stories "covered a lot of my Roman Catholic influences," but what I learned most is how much is left to uncover), I also got a little angry. In "Deliver Us," too. That seemed to fit MoFo's call, which includes "a preference for Catholicism—the eroticism and hypocrisy are built right in."
It's not all bitterness, though. I hope "Deliver Us" is fun as well as blasphemous, "Annunciation" is meant to be a celebration of its own glorious mysteries, and in between the sacrilege these pieces come from a genuine sense of reverence for…something. While the heroine of "Deliver" is very much a former Catholic, maybe not entirely by choice, both protagonists of "Annunciation" remain within the Church for as long as the story follows them. Consider them a narrative shout-out to all my fellow heretics.
And the other exciting part–I learned one of my favorite writers and editors, Annabeth Leong, will also be in Religion with her story "The Taste of a Soul".
A prolific and creative writer, Annabeth was also the copyeditor for the first two New Smut Project anthologies, wrangling about 40 stories from many different countries into a consistent style and offering thorough and insightful feedback to hone and clarify each writer's voice. Her story in Between the Shores**, "Return to Rope," is a moving and erotic exploration of betrayal, trauma, and healing that still makes me dizzy to think about.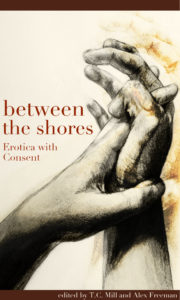 Also, signal boost: She's currently putting together the charity anthology Coming Together: Positively Sexy  about characters living and loving while HSV+. The deadline is May 22nd, but if you have a story idea and need just a little more time, get in touch with her at the email address through the link.
Next, I'll have two pieces in SinCyr Publishing's Getting It anthology of Femdom/Domme/Female dominant stories. SinCyr's mission is to "provide sex-positive, body-positive, and sexually empowered characters and content to readers of erotic fiction" including "topics ranging from sexual healing to sexual empowerment, to body positivity, gender equality, and more." They currently have several open calls if you want to participate!
"Silver Bracelets" is the story of a women and her boyfriend trying out a new and very pretty toy–among other things, what I really wanted to capture here was the toy-curling squee! factor of trying out and loving a new kink (or a kink you knew you had but hadn't been able to try in person before).
They shine like heirloom silver and are so pretty she could kiss them. She does kiss them, feeling the smoothness against her mouth, smelling clean metal and tasting a hard, clear clink between her teeth. The sound tastes better than birthday cake. She giggles in giddy, synesthetic bliss.
In "Fantasies," a woman asks her submissive a question during their scene that sends them into an exploration of desires they've had trouble voicing (including the desire to say "No").
 She released her mouth's tension with a soft pop. "I think I'd mess up the statistics. The ones they quote on every side of the feminist debates. Or maybe lots of women feel the way I do but don't know how to articulate it."
I'm thrilled to share this table of contents with my beta-swap partner Betina Cipher, a femdom author and blogger who's been giving me constructive feedback and sharing her own work since this January (my increase in new output since the beginning of this year owes something to her). She let me preview her story and it's a beautiful illustration of kink and healing.
*Let's say "I" is the narrator of "Annunciation" rather than I, T.C. myself. It's only a semi-autobiographical story, after all. I was just surprised when I found how much real experience I was building on.
**Putting together your first anthologies can be a disorienting experience, and my co-editor Alex Freeman and I realized to our chagrin that we'd forgotten to explain the origin of this title when we wrote the introduction. The quote is from Kahlil Gibran: "Love one another, but make not a bond of love: Let it rather be a moving sea between the shores of your souls." This beautiful quote seemed appropriate to introduce a collection centered around consent and negotiation.