New Release: "My Body is a Haunted House" in MoFo Pub's HOTEL
The stories in this anthology explore what happens in those most impersonal of private spaces—hotels.

Hotel. The very word conjures a sense of transience. Hotel takes you into a world without permanence. Between these pages, lovers meet and lovers part. Elegant, sensual prose takes you from grand ballrooms with lavish appointments to shabby heaps where you pay by the hour.

Sneak a titillating glimpse behind closed doors, where whatever can happen just might.
Transience, transgression, and transformation seem to be the order of the day–or night–in this anthology. My story, "My Body is a Haunted House," links two women together at an occasion of transformation: their (ex-)husband's funeral.
Smoke loomed over the funeral home's parking lot. Anvil-shaped, it was a dust-colored parody of a storm cloud, though if ever rained, the fires wouldn't have started in the first place. The useless counterfactual appealed to her for some reason.

Breathing deep, Monica imagined she could smell it: crisp, ashy. "It won't come closer, will it?" she asked Sara. More to coax her daughter into conversation than out of real worry.

But a different voice answered, mellow like Sara's pecked-at breakfast of pancake pellets rolled in syrup. "We're fine. There's a lot of nothing between there and here."

Monica turned around and couldn't reply. The woman standing there was so lovely that it dried the words in her mouth. Ochre hair swept to her shoulders, a little silver at her temples and sprouting from her part, storm-cloud silver that would look breathtaking as it grew out. High cheekbones, long nose, and long mouth. Hazel eyes, a little on the narrow side, narrowed further as they met Monica's.

"This is Cate," Sara said. "Dad's…"

"Wife," Monica said, nodding, while at the same time Cate said "Widow" with a shrug.

The gesture wasn't dismissive, but its matter-of-factness could be heartbreaking. Their gazes remained matched, and Monica saw fine lines around Cate's eyes. Laugh lines, or from frowning? Monica couldn't remember which way each went, any more than she could remember when her own sun-lover's lines could be described as fine.

Sara leaned in to hug Cate. They made a fitting pair, in plain black dresses belted with leather, lightened by studs of silver or turquoise. Nick's women. Sara, inheriting height from both sides of the family tree, wore flats; Cate's sandals had heels. Something swung from a black velvet cord around her neck—a diamond ring.

Monica took this all in, not really sure what she was thinking. What she should be thinking. Cate had come up, of course, in the weekly phone calls with Sara and rarer calls from Nick. They'd never revealed she was beautiful.

At last Monica found formality to fall back on. "I'm so sorry," she said.

"Me too."

"Thanks." Friends had offered sympathy when they learned about Monica's ex-husband's death, but she hadn't expected it from his widow. Any awkwardness evaporated under Cate's tone, straightforward and honest. She took her arms from around Sara and held them towards Monica.

"Thanks," she said again, accepting the embrace.

It was sincere, but quick enough to leave only an impression of warmth. Not the shape or substance of Cate's body. Which was what made Monica realize she wanted to know more, that her initial impression of silencing beauty hadn't vanished when she learned who this woman was.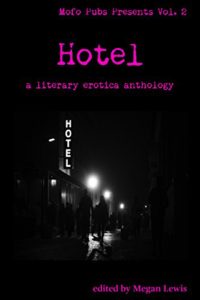 Find Hotel at:
Amazon 
(Paperback)
iBooks 
Nook 
Kobo
You can also get the complete Mofo Presents series–including the Sacrilege anthology, in which I have two stories–as a bundle in the Kindle store.