The Complete Lady Crayl: A Femdom Book Giveaway
Just one week from today (Sept 15, 2017), I have two stories coming out in SinCyr Publishing's first anthology, Getting It. It's 13 stories of dominant women of all kinds and their submissives.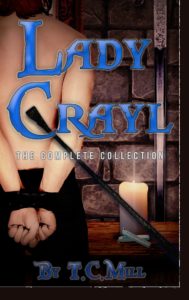 Some of the range in this anthology is clear just from the pieces I have in it–one is a sweet story about a young woman and her boyfriend enjoying their first pair of handcuffs. The other is about a more experienced couple exploring their rape fantasies (SinCyr's mission statement, though, is ""Shifting rape culture one sexy story at a time" so rest assured that it's all consensual–I find the trust exercise involved especially sexy, to be honest.)
You can read a little more about my stories, "Silver Bracelets" and "Fantasies," HERE.
But speaking of femdom–and when, honestly, am I ever not?–my short story collection Lady Crayl is up for giveaway on Goodreads from today through October 8.
Lady Crayl is a historical fantasy about a Dominant lady, Elise Crayl, and her loving knight, Adam Tynae. The four stories show glimpses of their lives as they're separated and find their way together.
When Elise Caryl and her forces successfully take command of an enemy castle, she recognizes the defending commander: Adam Tynae, the knight she loved and lost long ago. Determined that nothing will come between them anymore, she seeks to prove it to the man she owns heart, body and soul-using whatever tools come to hand, from riding crops to knives to lengths of ribbon. Happily, Elise and Adam have a few more marks to make, and a few more bonds to writhe in. After Adam surrenders, Lady Crayl will reward him with a far more pleasant manner of submission.
Content: These four short stories about a Dominant lady and her loving knight make up 28,000 words of tender romance and chivalry along with scorching erotic content, including knives, sensation play, and bondage. Adult readers only.
Sounds like something you'd like? Check out the Lady Crayl Giveaway here and enter before October 8!