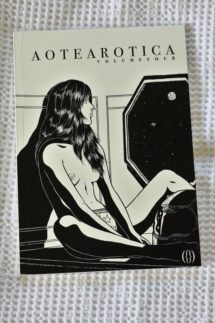 Yet another slickly presented, beautifully styled journal filled with exciting and thoughtful art and writing about sex and gender. But come on… that's what you expect from us.
Featuring writing from Katherine Baltimore, Laura Borrowdale, Erin Harrington, Lana Lopesi, T.C. Mills, Sam Riviere, Che/r Silva, Lena Tichy, Chris Tse, NJ van Vugt and Will Whiten.
Images by Michael Bergt, Wolfgang Fritz, Samuel Gold, Ahilapalapa Rands, Kylah Reed, Filippo Spinelli, Synaesthetics Illustration and featuring Kfir Toledano (cover).
Shipping now.
Read Aotearotica 
Aotearotica, Volume 4
Outnumbered
They've been going at it for almost an hour—just the two of them, one on one, but really, she's got him outnumbered. The cuffs help.

He strains at them suddenly, so hard the bedposts groan. She chuckles. They'll hold. He'd hold, too, even if in the moment he doesn't realize it. She slows down, giving him more space to ask for anything he needs. If he isn't too proud.

Silence. She goes back to what she's doing, riding out his reaction. Under her he bucks, trembles, struggles. A body in tension and frantic release.