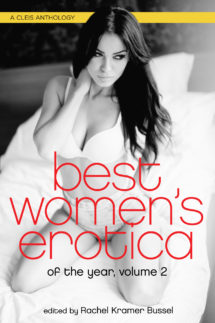 Best Women's Erotica of the Year, Volume 2 gives us fierce female passion, timeless love, and lustful encounters that are guaranteed to fill you with utter delight. A celebration of women's inherent sexiness, this anthology highlights tales of bold, incredible women who seek intimacy in their own way, from outright declarations to coy, playful, and arousing gameplay. There's something for everyone is this collection of intelligent and provocative erotica.
Read an Interview with T.C. Mill about "Phone Call, 3 am"
Read Best Women's Erotica of the Year, Vol. 2
Goodreads
Amazon.com
Barnes & Noble
iBooks
Audiobook in iTunes store
Best Women's Erotica of the Year, Vol. 2
Phone Call, 3 a.m.
You give no sign of how heavy you might feel inside , if the wet-clay grip of grief has taken your throat and lungs, if ice has formed in a layer above your frightened bones. Or if the friction of our bodies shakes off anything that might hamper you.
T.C. Mill's "Phone Call, 3 AM" is incredible. Second person stories can be quite moving in erotica, done night, and Mill hits all the right notes in this eloquent, searing story.

The stand-out story for me was Phone Call, Three AM by T.C. Mill.  As a reader, I was immersed in a deep pool of melancholy, vulnerability, and truly primal sexiness that delicately skipped back and forth over the line between sex and death.  This story isn't just oozy, languid erotica, it's also great literature, like a pinhole camera projecting a scene on a fluid, shifting surface.  Mill is brave with negative space and asking questions, rather than answering them, and that uncertainty organically heightens the tension and desire.