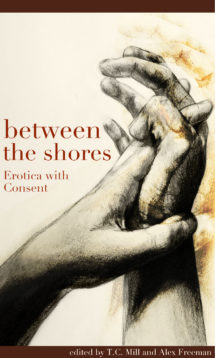 A volume of literary erotica centered around the possibilities of sexual negotiation.
Twenty complex, surprising, intense, and relatable stories from a spectrum of new and established writers explore something unusual in erotic fiction: someone saying no. Submissives—and dominants—safeword out of a BDSM scene. Couples (and one threesome!) discover the possibilities and boundaries of their new relationships. Past trauma rears its head. Personal preferences clash.
Between the Shores shows respect for the boundaries people set as an integral part of sex, and highlights trust, communication—and mutual pleasure.
Some call a halt to the action. Some proceed with care and caution. Some bare secrets to their partners that they've never before shared. And some find exciting alternatives. Through negotiation—whether serious or accompanied by laughter—they move beyond their "no" to reach what they truly desire: healing, growth, and fulfillment both sexual and otherwise.
Read an Excerpt from "Provided For"
Links
Goodreads
LibraryThing
Amazon Kindle
Createspace paperback (use coupon code  5MQV88KN  for $2 off cover price)
Amazon Abroad: Amazon UK, Amazon CA, Amazon DE, Amazon FR, Amazon AU
Amazon Paperback
Smashwords
Sellfy
Barnes & Noble
iBooks
Kobo
Between the Shores
Provided For
Vero is keeping secrets from her boyfriend of eight months, Mark. Like her past. The world she comes from. The nourishment she needs, and how she's used to getting it. The reason she doesn't like to feel provided for.
But it's been months since she tasted blood. And so she dares to make a request that might tear apart all they've built together–whether Mark grants it or not.
From Adriana Ravenlust's review of Between the Shores: "And T.C. Mill, one of the editors, has also contributed a story in which a vampire-like alien who has made her way to Earth negotiates a way to sate her literal bloodlust with her chosen human lover. This might be my favorite of all the stories as it combines romance, consent, vampirism and kink.

…It's hard not to mention nearly every story in this book because the focus in literature and high-quality writing provides the reader with an experience that provokes the mind as much as it does the clit. If this is what we can expect from this company, it's definitely one to keep an eye on!"