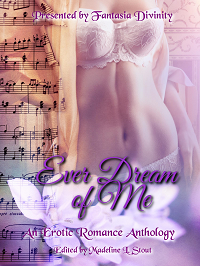 A mysterious woman sits across the bar. Would you go to her?
A detective goes looking for a woman when he finds himself caught in a strange sense of déjà vu. Two young girls in love are kept apart by society's rules. A woman who has never seen her husband's face dares to break his only rule. A fashion designer who gets repaid for her kind heart by an unexpected new friend. A new bride feels caught in the ghostly shadow of her husband's first wife. A dying girl forms an obsession with her nurse and fantasizes that she is a vampire who can save her. An anthropologist just wants to get away but ends up getting caught in a feud between a goddess and a dragon.
Find goddesses, fairies, vampires and more in this anthology featuring 7 talented writers!
Read Ever Dream of Me
Amazon.com (Kindle)
Amazon.com (Paperback)
Goodreads 
Ever Dream of Me
The Bitterness of Flesh
An arm went around her waist—Rob's, lithe and warm, an eager embrace she couldn't help melting into. He reached for her hand and brought it to his lips for a kiss.
Only then did he follow Jillian's gaze to the dresses from the back of the closet. He went still against her. From the corner of her eye, she saw his cheeks blush to match the russet highlights of his hair.
"I'm sorry," he said. "Her clothes were supposed to be cleared out."
Her body still sang with silk and scent.
"I don't mind," Jillian said.