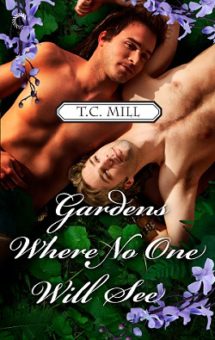 A returning hero, a prisoner of his past
Renad Amdarien's daring escape from the brutal confines of a sorcerer's dungeon has made him a legend throughout the land. Now trusted without question, Renad suffers the truth alone: his former master's sorcery rules him still. Broken both in body and mind, he finds brief solace only in the Gardens, lush sanctuaries of sex and secrets staffed by willing, skilled companions.
Nemaran, a most unusual Garden servant, recognizes Renad's pain and offers easy comfort. What begins as erotic exploration soon grows into more, with Nemaran's gentle attentions inspiring Renad to cross the physical and emotional boundaries society had long ago set in place.
When forces beyond his control compel Renad to commit the ultimate betrayal, the new lovers must band together outside of the Gardens' walls…for only Nemaran can help Renad become his own man once more.
Links:
Gardens Where No One Will See
Gardens is engrossing for a quick read… Renad's metamorphosis as he learns that masculine pride has less to do with dignity or rules about giving pleasure, and more to do with trust and love, show a real reversal in him. Giving himself over to Nemaran might prove to be the healing that he needs.