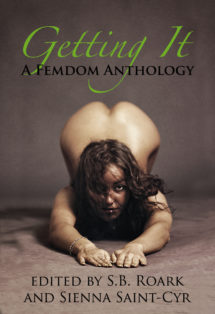 FEMALE DOMINANCE, A WOMAN'S ESTATE, AND SEXUAL AGENCY.
Getting It – A Femdom Anthology is comprised of thirteen sexy stories ranging from the sweet, new Domme finding her footing to the young man discovering that pain doesn't have to be self-inflicted.
Whether French cuisine tickles your tongue, pain twists into pleasure, or rape fantasies occupy your dreams, this delicious collection is for you. Mild dominance and hardcore BDSM entwine in Getting It, pushing characters and readers to embrace their innermost sensational desires in healthy, consensual ways.
Read Getting It
Getting It
"Silver Bracelets"
Something he sees in her expression makes him say, "Oh."

She comes very near to telling him, I liked your present so much that I tried to eat it. Knowing he'd understand, he'd get the joke, and even the part of it that isn't a joke. But she holds back.

…Her boyfriend's given her a pair of handcuffs, but she's afraid of coming on to him too strong.
"Fantasies"
Her lips had puckered so much in thought that he saw where the band of deep mahogany lipstick gave way to her natural color. Pinker, brighter.

She released her mouth's tension with a soft pop. "I think I'd mess up the statistics. The ones they quote on every side of the feminist debates. Or maybe lots of women feel the way I do but don't know how to articulate it."

"Yeah?" He responded to the thoughtful tone her voice took on. "How do you feel?"

She gently squeezed his neck, hinting that the question was impertinent. Or only unnecessary, since she wanted to tell him anyway.