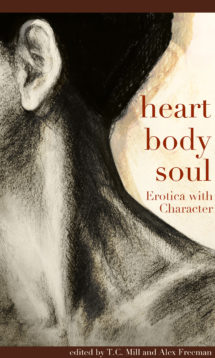 Characterization doesn't stop in the bedroom. Discerning readers' craving for emotionally and intellectually satisfying erotica will be fed by a spectrum of popular authors and new favorites as diverse as the smart, smutty stories they've written for this anthology. Sweet, kinky, romantic, magical, even heartbreaking, one thing they all have in common is a groundbreaking vision of what erotic writing can be. Featuring characters who are queer and straight, cis and trans, from mature couples celebrating fresh firsts to new adults playing familiar games, these stories reveal and revel in how people tick when it comes to sex, what they take to bed—their desires, hopes, dreams, and fears, their pasts, their passions, and their power—and what they bring away. This book of literary erotica celebrates sex as only these characters can have it.
 Links
Goodreads
LibraryThing
Createspace Paperback (use coupon code  5MQV88KN  for $2 off cover price)
Amazon Kindle 
Amazon Abroad: Amazon UK, Amazon CA, Amazon DE, Amazon FR, Amazon AU
Amazon Paperback 
Smashwords
Sellfy
Barnes & Noble
iBooks
Kobo
Heart, Body, Soul
Mistress of Victories
Susan Lee is in the midst of an identity crisis, but a stranger called Luke reassures her that even if she doesn't know who she is, he does–he knows a goddess when he sees one. Can she trust this trickster, who's pursued by a fate of his own, to guide her to become a new divinity?
A paranormal retelling of the Loki/Sigyn myth.