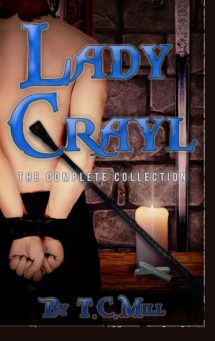 When Elise Caryl and her forces successfully take command of an enemy castle, she recognizes the defending commander: Adam Tynae, the knight she loved and lost long ago. Determined that nothing will come between them anymore, she seeks to prove it to the man she owns heart, body and soul—using whatever tools come to hand, from riding crops to knives to lengths of ribbon. Happily, Elise and Adam have a few more marks to make, and a few more bonds to writhe in. After Adam surrenders, Lady Crayl will reward him with a far more pleasant manner of submission.
Content: These four short stories about a Dominant lady and her loving knight make up 28,000 words of tender romance and chivalry along with scorching erotic content, including knives, riding crops, bondage, sensation play, tease and denial, and oral and vaginal sex. Adult readers only.
Read the Lady Crayl series
Amazon
Kobo
Barnes & Noble
iBooks
Smashwords
Createspace paperback (use discount code 5JDKJ5TA for $1.00 off)
Google Play
Lady Crayl
Lady Crayl's Prisoner
"Leave us," she said to the guards.
They bowed and obeyed, perhaps a little hesitantly. Once they were gone, she smiled at Adam. His hands stirred at his sides, opening the fists they had made.
"They told me you'd surrendered honorably. I saw no need for further restraint."
"It's appreciated." He spoke softly, still not looking at her.
She had half a thought to make him, to cross the room and force his chin up, to seize him and—
But it would be better, much better, to see what he could do willingly.
Squire Crayl's Captive
He was supposed to be beautiful, and deadliness only a part of his beauty, not his purpose. He was her lover, not her enemy. His expression was more suited to lovemaking than sparring, at least to the sort of forceful lovemaking they favored. Focused, but naked to her—easy to read as a favorite story, it signified, among other things, that it was only a matter of time before she brought him down.
Adam Tynae's Reward
Elise laughed, then let her laugh turn into a growl. "You've put up with the demands of so many of Hartlorn's lords today."
"Then what's one more, my lady?"
"Possibly one too many."
He put the half-emptied glass down. "No."
She met his eyes. "No?"
"Never the one too many, Lady Crayl. Not this one." He reached to take her glass. She let him put it aside. When he turned back, Adam let his eyes fall downcast, hands resting at his sides.
"I'm privileged to hear you say that." Her words were touched with genuine humbleness, despite the sensation of power that always rose in her when he presented himself like this. When he chose to submit to her.
"As it happens," she added, "I can think of a few demands. I hope you find none of them too arduous or unreasonable."
Her Seal Upon Him
She stroked the sensitive spot between his shoulder blades, then went back to the desk for wax.
"What color?" he asked.
She paused, reaching into the open drawer. "Do you have a preference?"
"No. I'm only curious."
Not black, she thought—too funeral. Red screamed official and gaudy at once, not like them at all. Azure-dappled gold, as she had just used on this last letter, was for the official seal of Hartlorn. The green of Burel was no more appropriate. This night was a rare chance to avoid politics.
Pure blue, she decided then, finding a chip of it which she'd burned down over personal correspondence. A nice, vibrant color, just short of robin's egg, a little duller than his eyes.
She held it over the candlelight, letting him see.
"It's good," he said, and let his eyelids fall down again. His words were soft, slow, heavy.
"I'd almost think you were falling asleep."
"Asleep, no." The corners of his lips tugged in a smile.
She ran her hand over his back again. No, not sleepy; every inch of him seemed to prickle to life beneath her touch.