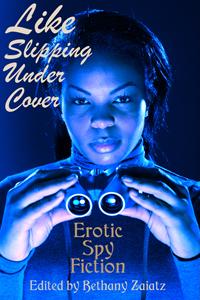 Sex and spies go together like hands and leather gloves. From the fictional secret agent and womanizer, James Bond, to the countless provocative depictions of real-life accused spy and exotic dancer, Mata Hari, eroticism and espionage are a natural fit in the public consciousness. It might be blatant romanticism of a thankless, dangerous job, those of us who will never lead a double life are welcome to fantasize how seduction and sex could be used by master spies. Like Slipping Undercover features ten new, previously unpublished stories of erotic "spy-fi" from authors A.C. Wise, Chris Amies, T.C. Mill, A.J. Viggen, Shawn Erin, Eric Del Carlo, Kaysee Renee Robichaud, Reina Delacroix, Julian Oliver-Fenn, and Max Erica Scott.
Read Like Slipping Undercover
Like Slipping Undercover
The Masterless Man
And then, making Devan happy—as he certainly intended to—
might go a long way to smoothing relations with his Master, or at
least filtering any reports the bondsman passed on to him about
Allen. Damage control.
By the time Allen reached the right apartment number, he had
almost convinced himself this was a good idea.