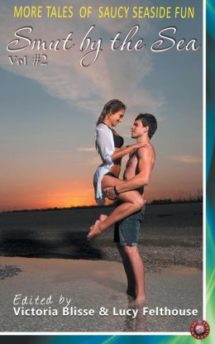 Light hearted, sexy fun by the sea is the theme of this erotic anthology, edited by Victoria Blisse and Lucy Felthouse.
From the sun soaked beaches of Brazil to the altogether cooler coastal towns of England, Smut by the Sea Volume 2 has it all. Whatever your interpretation of naughty seaside fun, there's something nestling between the covers for you. Amusement arcades, beach houses, mermaids, honeymooners, shipwrecks, sex toys and more abound in this exciting collection of stories from erotica's finest authors.
Read Smut by the Sea, Vol #2
Amazon (paperback)
iBooks
Barnes and Noble
Smut by the Sea, vol. 2
Sharing the Captain
When she accepted Henry Carpenter's proposal, Kate knew she was taking a man who would look to his vessel and the sea first. Perhaps in time she would regret it—would come to wish she desired someone capable of loving any human thing. Someone like Carpenter's First Lieutenant, an older man with a gentle, weathered face, kind eyes, and firm hands that had helped her into the carriage. And Kate did desire him, to tell the truth (shameful, how easily she desired men). But if she could only have one man, it was Henry she would choose.