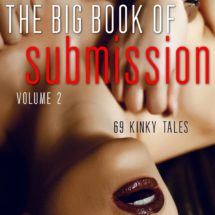 Whether you're simply curious about submission or regularly revel in the delights of BDSM, these sixty-nine erotic short stories about submissives will turn you on! From participating in a musical recital that takes a very kinky turn to making a grocery run while using sex toys to indulging in a risqué office encounter during working hours, these subs delight in obeying (or deliberately disobeying) their masters and mistresses in public and in private. They're rewarded and punished the most wicked of ways that will leave you breathless. Edited by Rachel Kramer Bussel, with stories by Selena Kitt, Jade A. Waters, Dorothy Freed, and Sommer Marsden, among other talented writers, The Big Book of Submission, Volume 2 offers arousing tales that delve deep into the thrills of spanking, bondage, power dynamics, service, exhibitionism, erotic adventure, and much more.
Get The Big Book of Submission, Volume 2
IndieBound (find your nearest local independent bookstore)
The Big Book of Submission, Volume 2
"First Slap"
"Can I…" she started.
"What?" He almost told her, Anything, just go ahead.
"Can I slap you?"
He was struck by how she asked the question. Clearly, but softly, revealing not shyness but a sort of respect for the request's significance. It was the same way she had suggested their first kiss, resolving his private uncertainty over the nature of a conversation which had grown steadily warmer and more intimate. Then, in what seemed like a continuation of their exchange, the kisses went on, deepening until her lips turned red and his felt swollen and helpless but not numb, not exactly.