(Note: I received a free ebook of Best Women's Erotica of the Year, Vol 3 for my honest review.)
The third volume of Best Women's Erotica of the Year combines significant variety with several recurring themes that keep the book feeling cohesive. The ones that struck me included growing older, the use of paint (or body paint and makeup!) as well as photography and other art, negotiating desires, and storytelling–plus books as physical objects, stress on the physicality part. There was also a great diversity in characters, with a range of ages, ethnicities, backgrounds, jobs, body types, and sexualities, as well as a number of strong stories touching on trauma, gender identity and presentation, and/or kink. One thing I did notice in reading the author biographies is that every contributor had an impressive bio–which is not at all a complaint! But I had the feeling that this volume of Best Women's Erotica didn't introduce me to as many newcomers (though a number of writers were new to me) compared to more established or experienced writers. And on the third hand, it's worth emphasizing the quality of writing in this anthology–there isn't a single story that didn't have some line or image that caught my attention, even when not all of them appealed to my kinks or taste in style. Plus there were several that opened my eyes and mind, and I'll be looking up more of these writers' work.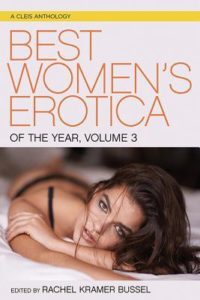 I want to talk about the pieces that especially stood out to me.
Stories I Liked:
The Birthday Gift by Apigail Barnette: For her husband's 52nd birthday, Sophie treats him to a gift in their home theater that features body-friendly paint in interesting places–and appropriately in the bi pride colors!
Demon Purse by Sommer Marsden: This one also features paint, specifically full-body makeup, plus some high-heeled boots, hairspray, black denim, and green contact lenses with elliptical irises… Of course, I especially love this one for its femdom overtones, but it gives further meaning to the words "scary hot" and even redeems the deliberately cheesy reference of the title.
The Follow-Through by Kris Adams: Another great piece featuring mature characters, humorous and sexy without flinching from their foibles and imperfections. Janelle is determined to seduce a new widower at her retirement community and Edward offers his assistance in making the eligible man jealous. Cringeworthy as Edward can be, Janelle is drawn in as he reveals his hidden depths (plus a prescription for the blue pills, and a little sciatica from time to time–meanwhile, Janelle is literally swooning in his arms).
Romance and Drag by Lyla Sage: The title says it all. This story is packed with imagery and ideas and so much to love–a bisexual couple, a handsome woman in a suit, a gorgeous man in makeup, swinging, kink, role-switching…
Falling by Charlie Powell: One of those stories I recognized earlier for its treatment of disability and kink. The heroine of this story has hemiplegia, which means her left leg is about half an inch shorter, and she arrives at her first date with Kit in tights ripped from a fall on the way there. The shredded leggings offer an opening for them to discover they're compatibly kinky through adorable flirtation which blossoms into an intense, romantic encounter.
Overexposed by Brandy Fox: A photographer, Shannon, unexpectedly meets her late brother's best friend. They had grown close to in the wake of her brother's death, then drifted apart, and Joey's now homeless but has built a community in Seattle. They finally have the chance to consummate their sexual tension in a story that handles painful, messy subjects with compassion and passion.
A Stolen Story by Leandra Vane: A librarian, feeling betrayed by a true crime writer who interviewed her about a historic local murder, receives comfort and confrontation from the ghosts of the maligned couple–sexy and philosophical, this one uses an erotic connection to explore the nature of truth, history, fiction, and the ownership thereof, a great example of literary erotica in which sex provides a lens through which to engage with big questions.
Red Satin Ribbons by Tamsin Flowers: Leah's friend at work, Tom, asks her to help him give his wife the birthday gift she's always wanted–a threesome. Thus Leah winds up in a box and in elaborate shibari bondage with the titular ribbons. What especially won me over about this one was the wife, Shona, and her utterly charming mixture of politeness and erotic enthusiasm–her opening words to Leah are "Honey, you're beautiful. What's your name?" And I don't know what it is about me or about that line but my knees went weak.
Infused Leather by Dr. J: Angie and Harold, a barista and a shoeshiner at an airport, connect based on their interest in leather and kink, and as they grow in intimacy they also find ways to take control to recover from trauma. The dialogue–negotiation, support, and navigation of desires and boundaries–makes for convincing and hot chemistry in this piece, which handles heavy topics in a way that feels not only respectful but really cathartic.
Stories I LOVED: 
Body Shots by Thien-Kim Lam: This story opens with gorgeous imagery, then builds up in a delightful slow reveal of a progressively kinkier setup. Not only were the story and characters great, I especially enjoyed the structure of this one: an in media res close-up opening that pans back and makes use of brief flashbacks (if they can even be called that, they're so unobtrusive) to tell the story of how Kit and Tre got here while keeping the heat high.
Bibliophile by Dee Blake: We all love books, but Sophie…really loves books. And after reading about her, you might also, because her fetish is honestly a bit contagious. While looking up sexy retellings of the classics (mm, yes!) she encounters a fellow book lover. He's also a writer, and shares some of his work–the excerpts themselves are wonderful, a bit primal compared to the more cerebral bibliophia, giving us and Sophie the best of both worlds.
Guyliner and Garters by B.B. Sanchez: Every geek's sweetest dream, this costume-themed story had me at "He is totally Cinna from The Hunger Games" (the gold eyeliner is such a good look), had me again with the heroine's inner narration ("Okay, finally remembered breathing was not a lifestyle choice"), had me a superfluous number of times with the side reference to a Harley Quinn and Poison Ivy couples cosplay at this Halloween party, then treated me to an erotic encounter in a library and the beautiful chemistry between the main couple (Ciara and John-George, starring for the evening as Agent Carter and Cinna, respectively). It proves you can never have too much or too many good things.
Making It Feel Right by Annabel Joseph: The first three pages of this one led me on a journey. First off, I've often wondered about the gender-flipped version of dominatrices–doms for hire–and whether I'd enjoy a story about them, so this piece's set-up had my interest. And Daniel certainly had my attention, being gorgeous and at once caring, accommodating, and in control. However, above all I'm about femdom, and I was just starting to feel disappointed that this anthology didn't have more of it when Myra figures out that even if she hired a dom, what she really wants is to try being in control of him (She has a line–"Maybe I'm not submissive. Maybe those books I've been reading just made me think I was submissive"–that's interesting in this regard, not to draw this review off-topic but I'm also reading Nancy Friday's Women on Top and reflecting on how dominant women's fantasies and sexualities develop, so…) The upshot is, once I saw I was reading about a man who is gorgeous,  caring, confidence and accommodating enough to try submission (since submissive guys are the hottest!) AND Myra with her careful uncertainty over what she can do, mixed with the growing certainty of what she wants, I read the rest of the story with a dumb happy grin on my face. Let me know when there's a novel-length version of this.
You can find Best Women's Erotica of the Year, Vol 3 at: