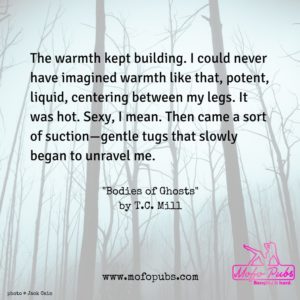 A Walt Whitman poem says, "And to die is different from what any one supposed, and luckier."
I've always misheard that as "To die is luckier than any of us know, and stranger."
Because how could it not be?
I don't pretend to have any insight into what an actual afterlife might be like, but when I'm writing ghosts, I try to keep its potential strangeness in mind. Not in a bad way, necessarily; it could be a lucky and fortunate strangeness. But I'm pretty sure sex with ghosts would be something very different from sex with human beings. A matter of odd geometries and invisible contours, the texture and taste of a non-biological intimacy. It would have to be at least a little scary, and probably wistful too.
A song that perfectly captures this mixture of whimsy and weirdness–incidentally, the perfect soundtrack to Bodies of Ghosts, even though it wasn't released until after I had completed and submitted the story to Mofo–is Seeming's "Phantom Limb":
Incidentally, Seeming also has a song called "Stranger" that makes the process of becoming different sound pretty lucky (though it's much more about life than death). And at times weirdly, wonderfully erotic.
And if you're looking for inspiration for Mofo's current call, Apocalypse (how would you fuck if the world was ending?), you might want to check out "Goodnight London."
Read Bodies of Ghosts free:
Get Haunted: