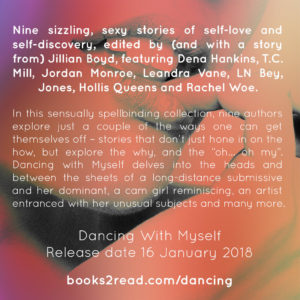 Today is the release date for Dancing With Myself, an anthology of self-love erotica. What a beautiful phrase–"self-love." In all it senses. Interestingly, one might argue that the protagonist of my piece in this anthology, "The Solution," doesn't have a lot of reason to love herself.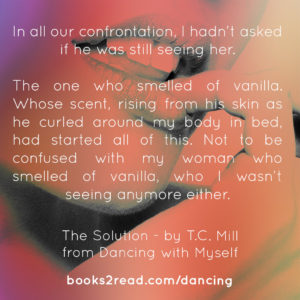 "The Solution" is a story that's been on my mind for a while. Even with this, it's still not fully purged; I suspect it's one of those beasties that might turn into a novel one day. I starting writing it when I was reflecting on how several of my favorite erotic novels–everything from Megan Hart's Tear You Apart to  Kate Chopin's The Awakening–center around adultery.
What's up with that?
I've got theories: not the lies, but the secrecy certainly touches on something in me, and I've always been personally a bit skeptical of monogamy. It's definitely something more fun to read and write about than to do, but there is that fascination that always surrounds people behaving badly.
I wondered if Dom had ever worried about me, all the nights I'd been out late. Maybe he'd been glad to have his space, just as I was glad to have mine on those evenings he claimed to have meetings or buddies waiting for him at some bar. Once I figured out where he'd really been going, I claimed more than space. I took pleasure, I took control. That was what it felt like at the time, at least.
The story centers, then, around that headspace–the thrill of doing what you know is wrong, but feeling justified in it anyway. A place where selfishness isn't quite the same as self-love. But it's as much about the other people involved in these brief-lived affairs, some of them one or two-night infidelities:
Dirty, he'd called me when I showed him how to get me off. I'd grabbed his hand and guided it to where mine now was, riding his fingers and rutting against his palm. His wrist had twisted in my grip and he'd panted about my perversity. I'm not sure which part he found so perverse. When I'd gone further, grasping his cock to control how it slid inside me, he'd been able to say nothing at all. Had that been worth violating my marriage vows for? That, and Heather, and Claire and Matt, and Joshua's lips wrapping around my nipples as his fingers cupped and kneaded my ass, and Scott's grin as he followed me down the dim corridor…
It's a story about memory, and having it all at once, and having none of it, and learning how to love yourself once again. After all, you're the one person you have no choice but to be faithful to.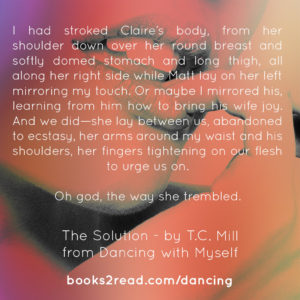 Dancing With Myself is available on Amazon and Smashwords. More updates will be added to "The Solution's" story page as they come.