Mofo publishing's latest anthology of literary erotica, Sacrilege, comes out August 17th. This week I'm sharing excerpts from both my stories in it.
"Annunciation" is a Marian devotion, a confession, a denunciation, and a love story about growing up queer in the Catholic Church.
Annunciation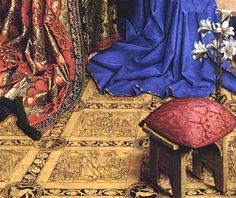 Gabriel
The Nativity is the third Joyful Mystery.
My first crush was on the archangel Gabriel, who I thought was a woman.
I stared at the illustrations in my religion textbook, studying every nuance of the figure, taller than the kneeling Mary (or even when kneeling to Mary) but slender. Details of that long body were masked by a white gown that flowed to bare feet, draped the wrists of gesturing hands. The beardless, fine-featured face was framed by a cascade of golden hair. These details recurred in image after image. Already half-daydreaming, I skimmed text that spoke of "the angel," and I knew girls named Gabrielle.
So to me, the Annunciation was always a matter of two women together in a bedroom.